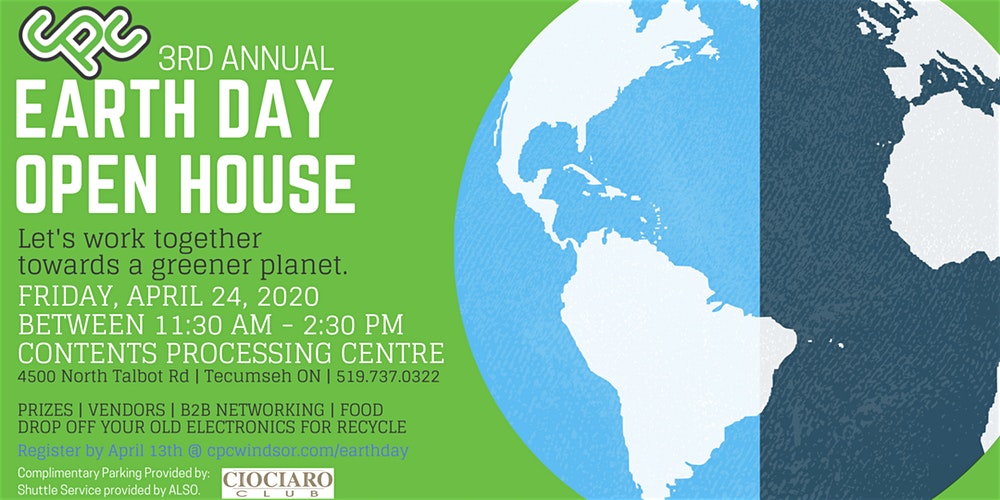 Contents Processing Centre (CPC) is hosting its 3nd Annual Earth Day Event – Presented by Libro Credit Union with all proceeds to support Assisted Living Southwestern Ontario (ALSO) Charitable Registration 118848712.
ALSO is a charity committed to supporting adults with physical disabilities, survivors of Acquired Brain Injuries, and seniors in Windsor and Essex County.
They were also the recipients of our monthly Recycle Electronic Drive and a supporter of our 2019 Earth Day Event.
We encourage business professionals and organizations in our community to join us at our Earth Day Open House on Friday April 24th from 11:30am – 2:30pm at our location 4500 North Talbot Road near the Ciociaro Club – to drop off their old recyclable electronics, grab a bite to eat from delicious food from VIA ITALIA restaurants and network with our community partners.
Complimentary parking will be available at Ciociaro Club with shuttle service provided by ALSO.
Follow us on Social Media #EarthDayYQG #CPCgreen
For more information you can email us at elizabeth@cpcwindsor.com or call 519-737-0322.
Please REGISTER if you plan on attending so that we can ensure enough food and refreshments for everyone